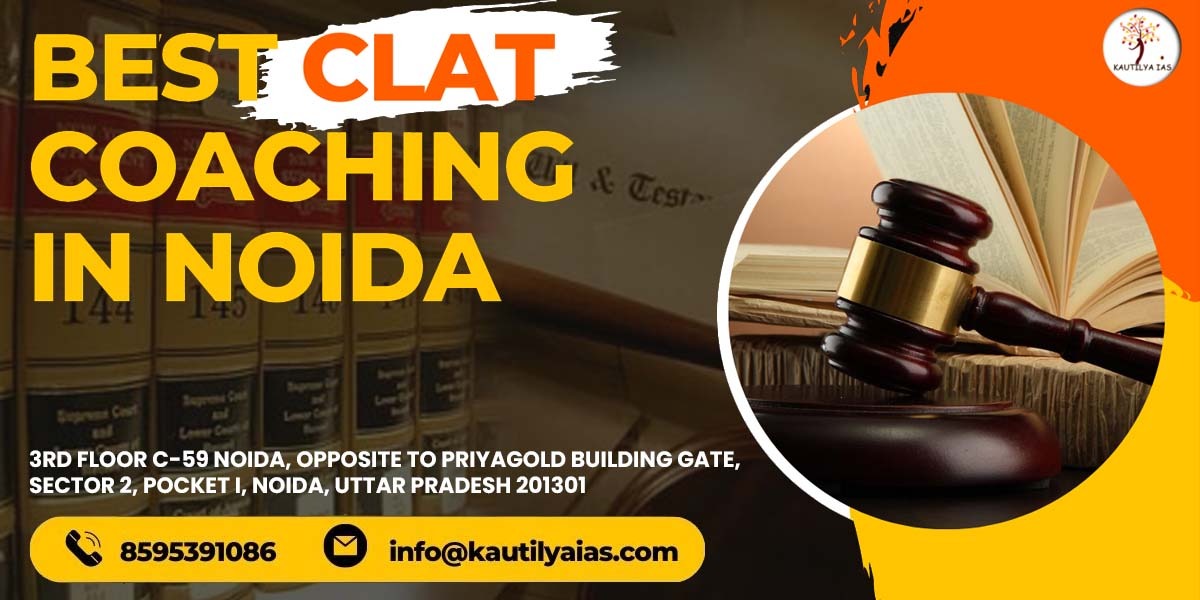 Kautilya IAS is Offering the Best CLAT Coaching in Noida
Do you want to pursue a career in the law and judiciary system? Well, in that condition, you need to clear the CLAT entrance exam. Now you definitely want to know about the CLAT entrance exam. Common Law Admission Test is the abbreviation of CLAT that signifies that all law aspirants must pass this exam to grow their career in the judiciary system. Different law colleges, universities and National Law Universities offer UG and PG courses for law applicants. Kautilya IAS is a prestigious institute in delivering the best CLAT Coaching in Noida for UG and PG programs.
Kautilya IAS has an organized perspective for the study and mentoring of all law aspirants. Candidates will obtain a completely systematic learning ambience by enrolling with Kautilya IAS CLAT Coaching in Noida. In our CLAT preparation, students will acquire the benefits of understanding case studies, mock tests, group discussions and detailed study material. Moreover, all fellow candidates can share their skills and learn with one another so that, eventually, everyone can improve their law coaching.
The CLAT entrance exam is the entry point for scholars who want to pursue bachelor's degrees and postgraduate degrees in law. As the best CLAT coaching institute in Noida, we value fostering the careers of young law students. Several career development possibilities are there in the judiciary sector in India. Students with undergraduate and postgraduate degrees in the legal sector can apply to private and government organizations. The CLAT entrance exam is essential to become an eligible legal consultant. Many best institutes for CLAT preparation deliver plenty of advantages, but it is hard to pick the right one.
Choosing the Best CLAT Coaching Institute in Noida
Kautilya IAS has become the synonym for the best online CLAT coaching in Noida. Our results and consistent performance depict our success in the CLAT entrance exam. With the competence of proactive teaching, guidance and mentorship, our learners get ultimate margins among competitors in the CLAT LLB 2023 exam and CLAT LLM 2023 exam. As we have already mentioned, the aspirants clearing the Common Law Admission Test (CLAT) exam can get admission to different NLUs (National Law Universities) and private law colleges.
Our interactive and CLAT coaching online in Noida completes the requirements of all candidates who are willing to perform rigorous practice to crack the law entrance exam. Kautilya IAS validates secure admission to the renowned law colleges of India by providing well-organized preparation of CLAT coaching in Noida to all deserving applicants. Undeniably, we are the best institute for CLAT preparation because of our experienced mentors, structured study material, consistent mock exam, doubt classes and many more. You will get the detailed features of CLAT exam coaching through Kautilya IAS in the next segment.
We have appointed veteran mentors who are experts in giving CLAT online coaching to all law aspirants. Our faculty members provide effective CLAT exam coaching aiming to create leaders and judicial experts for India. Students can get accurate guidance to rank high through the online CLAT coaching by Kautilya IAS. Our CLAT entrance exam coaching contains profound information and tips to get success in the real exam. Candidates must abide by the direction and learning tactics provided by the mentors.
Why Kautilya IAS is The Best CLAT Coaching Institute in Noida
Law aspirants will learn disciplined practice, effective learning, time management and a dedicated mind-set for their end objective. We teach candidates with a stress-free, efficient, and strategic knowledge standpoint. Scholars can apply our initiated knowledge practices to accomplish an advantage over corresponding learners. Have a glimpse at some core attributes that build the inimitable status of Kautilya IAS as the best CLAT coaching in Noida:-
Guest Lecture Sessions: Kautilya IAS organizes guest lecture sessions for aspiring students. These sessions fill motivation, morale boosting and extreme engagement in law scholars. Many reputed bar council members, lawyers, former judges and judicial course experts deliver their huge knowledge and experience to students. Being the best CLAT institute in Noida, Kautilya IAS has taken the accountability to make your future shine.
Doubt Classes: Don't hesitate to ask your teacher if you have any doubts about the concept or any questions about the judiciary syllabus. For that, we have designed doubt class sessions that indulge various perspectives of CLAT preparation. Interact with faculty members to eradicate all doubts and improve your learning. You will perform well in the main exam if you attend these doubt classes with the best online CLAT coaching institute in Noida Kautilya IAS.
Qualified, Proficient & Respected Teachers- In our faculty team, we have a bunch of veteran, renowned and qualified teachers. Each one is the subject matter specialist. Our skilful mentors develop a positive aura in the class by giving interactive, encouraging and thought-provoking tips to enhance engagement and participation in the course curriculum. Moreover, our teachers can mould their teaching skills, including online CLAT coaching, to advance the learning atmosphere.
Advantages of joining Kautilya IAS for Best CLAT Coaching in Noida
Digital Notes and Video Lectures: You can also opt for recorded classes, digital notes, PPT etc., for your acknowledgement and learning purpose. Our best online CLAT coaching will provide you with all the important content to help your exam preparation. We have competent graphic designers, video editors, and subject matter experts to create customized video lectures on demand for the students.
Performance Assessment Reports: All candidates get enough opportunity to improve their preparation through performance assessment reports. Kautilya IAS validates each scholar's consistency in learning by organizing mock exams, doubt classes and one-to-one interaction. Candidates will get honest feedback on their performance in the reports. It will help them to work on their weaknesses and strengths.
Information About Colleges and Universities: We give the latest information about the happenings in law colleges and universities, including syllabus changes, pattern change, important exam dates and all that. We communicate through various communication channels such as email, phone number, website, Whatsapp and telegram. The updated information helps aspirants to be aware of CLAT coaching online and its curriculum.
Useful Study Material and Sample Papers: Our study material, sample papers, previous years' question paper solved, and notes can make your CLAT coaching offline and online easy. With the support of our study material, many students have become aware of the newest CLAT course curriculum to blend with the LLB entrance exam syllabus.
On-Campus Classes: Candidates who can attend physically will get sufficient exposure to all attributes of offline classes. You can ask mentors any time about your query, doubt and many more. The academic ambience in our CLAT coaching in Noida is matchless.
Some other Features Provided by Kautilya IAS 
Mock Test Practice: Mock tests are the best way to evaluate the performance of any student looking for competitive exam preparation. Our mock test session helps students to recognize their skills, negatives and strong points. Aspirants can improve their weaker areas and maintain stability in their strengthening points to excel in the exam. Every mock test delivers reviews and performance evaluations for the progress of the aspirants.
Economical Fees: Our judicial coaching classes are appropriate for all candidates, and money is not a constraint to get enrolled in our classes. There are no hidden charges and absurd fees that can strain your budget. You can match our price and value that we give on the market with others and then decide.
Interactive Online CLAT Coaching: The customized CLAT online coaching through Kautilya IAS is result oriented, interactive and exclusive. Candidates will feel similar, like they are personally present in front of the teacher. Our CLAT online coaching is interesting and creates a focused setting for candidates.
Online Interactive Coaching: Our online CLAT coaching is exclusive, communicative, and real, so students will not miss physical classes. Our teachers focus on each question asked by the candidates at any time during the class session. The live CLAT preparation classes aim to make every student attentive. In addition to becoming the best CLAT institute in Noida, Kautilya IAS is known as the best CLAT coaching in India.
Best Institute for Offline and Online CLAT Preparation: Kautilya IAS
There is no question that Kautilya IAS is offering the best online CLAT coaching in Noida and has strengthened candidates with its innovative learning tactics. The profound course, significant notes and tips support candidates to do well in the LLB entrance exam. Every law pupil comes here to live their dream of becoming an advocate, judge, solicitor general and many other reputed officers in the judiciary.
As a result of its continuously impressive CLAT entrance exam results for law learners', Kautilya IAS has earned an important spot within the Top 10 CLAT coaching institutes in Noida. Applicants receive complete preparation for the judiciary entrance test here. Several legal specialists and legal system graduates suggest our institute because of its distinctive and intuitive methods of instruction, competent teachers, useful learning resources, helpful workers, and high CLAT passing record.
Eligibility Criteria for CLAT Entrance Exam
Kautilya IAS completes your aspirations for the best CLAT coaching in India. Numerous reasons make us say the same. Our institute's benefits and features make us the finest judiciary coaching institute in Noida and NCR. Our academics have customized the CLAT coaching online and offline classes to advance our student's aptitude. A candidate eager to join India's law system must know the eligibility criteria to participate in the CLAT entrance exam. The following details will elaborate on all the CLAT entrance exam eligibility criteria requirements.
CLAT for UG Aspirants (For LLB Course)
Only Aspirants with a 10+2 certificate and mark sheet with a licensed education board and the university is allowed to take part in the CLAT UG entrance test
The minimum qualifying mark in this entrance exam is 45% for the General and OBC categories of students. SC/ST candidates will get a 5% concession in minimum marks obtained to qualify for the exam with 40% of marks
No age limit applies to any candidates.
CLAT for PG Aspirants (For LLM Course)
No upper age limit applies to any aspirants.
Aspirants with an LLB degree or equivalent qualification from a well-known college and university can appear in the LLM entrance exam.
The minimum qualifying marks for the NRI, General, OBC, OCI, PIO and PWD student is 55%, and SC/SC Student again has a 5% rebate in the qualifying market, which means they need to obtain a minimum of 50% to qualify for the exam.
A Detailed Overview of CLAT 2024 Exam Syllabus
CLAT Exam 2024 for English Syllabus 
CLAT Exam 2024 for English Syllabus covers the topics which assess the grammar and vocabulary skills of the candidates. The segment has 28-32 questions, and each paragraph has 450 words at least. The literature might be derived from fictional and nonfiction historical, modern sources. CLAT English curriculum contains three sections vocabulary/ language rectification, aptitude and comprehension skills.
Current Affairs Syllabus CLAT 2024 
The current Affairs of CLAT exam has 450 words of passage. The part has 35-39 questions. All the paragraphs contain content from the news, daily journals, non-fiction reading sources etc. The paragraph will have questions related to legal cases and references. However, candidates don't have to become legal experts to answer these questions. Only basic knowledge is enough to crack the answer to these questions. The current affairs and GK curriculum have the content of Indian and global events, historical occasions of modern relevance.
Legal Reasoning Syllabus CLAT Exam 2024 
The legal reasoning part of the exam has 450 words and 35-39 questions. Candidates must answer sections based on the circumstances and facts related to the detailed legal remedies, moral values and public policy affairs. Candidates must not have legal vocabulary knowledge to solve the questions. Students must recognize the current moral and legal matters and become capable of applying them according to conditions.
Logical Reasoning Syllabus CLAT 2024
Logical Reasoning in CLAT generally has 35-39 questions, containing nearly 300 words in passage form. These are small passages that contain objective questions. Candidates must identify the argument, its foundations, and its repercussions. They must analyse the reasoning format and examine how perceptions may depend on particular events and evidence. Also, aspirants must complete the purpose of the comprehensive passage and apply the interpretations to the current situation. They need to detect links and resemblances and also clashes and misapprehensions.
Mathematics Syllabus CLAT Exam 2024 
The exam's Mathematics/Quantitative Techniques part is the only part that doesn't contain comprehension-based questionnaires. It barely has 13-17 questions to attempt. The whole mathematics / Quantitative Techniques part encompasses pictures, graphs, text and diagrams related queries.
CLAT New Exam Pattern 2024 – Marking Strategy
The consortium has made the most recent announcement for the changes in the CLAT UG pattern in which the number of questions is reduced. The entire changes are mentioned in the below lines:-
Previously students needed to attempt 150 questions, but now it has been reduced to only 120.
The whole 120 questions are distributed into five subjects or categories, which include English Language and Literature, Logical Reasoning, Current Affairs and GK, Legal Reasoning, and
Candidates will obtain one mark for each correct answer and one-fourth negative mark for each inappropriate answer.
Candidates must not practice prediction and assumptions because it can risk their marks. So only give answers when you are 100% confident about the answer.
As stated in the above segment, the CLAT entrance exam covers comprehension passages and questions collection in all topics except the Mathematics/quantitative techniques section.
The difficulty level for the UG CLAT entrance exam is class 12.
The time duration to complete the exam is 2 hours for both LLB and LLM entrance tests.
CLAT UG & PG Exam Pattern 2024
There is a significant difference between the CLAT exam pattern for Undergraduate (UG) and Postgraduate (PG).
The CLAT UG course entrance exam subjects are English, GK and current affairs, Legal Reasoning, Logical reasoning and Quantitative aptitude.
The CLAT PG exam consists of subjects such as Company Law, Law of Contract, Administrative Law, Environmental Law, Property Law, Labour & Industrial Law, Constitutional Law, Criminal Law, Public International Law, Tax Law, Family Law, Torts and Jurisprudence. You must see the table described in the underneath section for a better and deeper understanding of the CLAT UG & PG exam pattern.
 Syllabus Overview: CLAT EXAM
| | | |
| --- | --- | --- |
| CLAT Exam Attributes | 5 Years LLB | 1 Year LLM |
| Mode of Exam | Paper and Pen Based | Paper and Pen Based |
| Total Duration of Exam | 2 Hours | 2 Hours |
| Total Number of Questions |  120 | 120 |
| Type of questions | Multiple Choice Questions (MCQs) | Multiple Choice Questions (MCQs) |
| Maximum Marks | 120 | 120 |
| Marking Structure | 1 Marks for the correct answer-0.25 for incorrect answer | 1 Mark for the answer answer0.25 for wrong answer |
| Language of Exam | English | English |
The table above mentions the latest CLAT exam syllabus and pattern updates to the best of our knowledge. Applicants need to consider these updates and act as per the same. Counselling and teaching are significant for aspiring students to do well in all competitive entrance tests. But picking the best CLAT coaching in India needs profound research, track record and consistent performance of the institute. We have become the best CLAT coaching institute in Noida, but still, we request all aspirants to verify our position in the market, and they will get 100% genuine reports. You can count on Kautilya IAS for the best CLAT coaching in Noida and India without a single doubt.
For additional details about CLAT entry coaching and other judiciary program coaching, please contact us at the following address and phone number:-
| | | |
| --- | --- | --- |
| Address | Phone | Email |
|  Dr. Mukherjee Nagar Near Batra Cinema Delhi – 110009 | 8595391086 | info@kautilyaias.com |