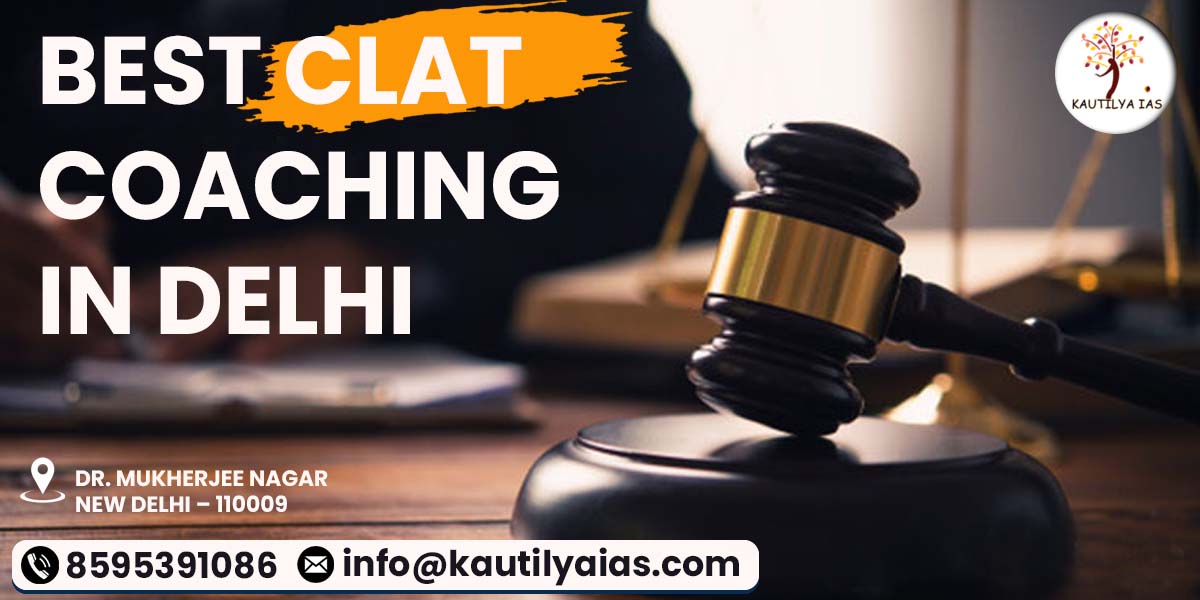 Kautilya IAS: The Best CLAT Coaching Institute in Delhi
Students interested in making their career in law and judiciary must clear the CLAT entrance exam. The complete name of the CLAT is Common Law Admission Test, an entrance exam for law students in different undergraduate and postgraduate programs. Various colleges and Law Universities in India provide UG and PG programs for law aspirants. Kautilya IAS is a premier institute with an excellent status in delivering proven and the best CLAT Coaching in Delhi for UG and PG courses.
Systematic CLAT coaching and study is the core USP of the Kautilya IAS. Whenever students explore different institutes for law entrance exam coaching, they want a fully structured learning atmosphere.  At Kautilya IAS, we ensure applicants can get academic ambiance through our magnificent law entrance coaching. Our CLAT preparation includes group discussion, streamlined study methods, class presentations, mock exams, case study material, and distributing knowledge.
Being the best CLAT coaching institute in Delhi, we believe in nurturing aspiring law applicants' careers. The boom occurring in the legal sector in India is dynamic, and it has numerous job opportunities. Not only in private firms and individual practice, but lawyers can secure their position in top departments in administration and government. CLAT is a gateway to enter the impressive legal sector. When a student cracks the CLAT entrance exam, then he or she ensures their eligibility to become a legal expert. Several best institutes for CLAT preparation are there to offer many things, but selecting the trustworthy one is pretty tricky.
However, we don't believe in verbal claims; we have results and data of law candidates who have fruitfully scored well in the CLAT entrance exam. Our ground-breaking teaching methods provide our students the utmost advantage among others in the CLAT LLM 2023 exam. Applicants are eligible for the Common Law Admission Test (CLAT) exam if they have cleared higher secondary education. Various NLUs (National Law Universities) and other private law academies consider CLAT exam score and rank to approve admission of aspiring law candidates.
We deliver the best LLB entrance exam coaching in Delhi that caters to the aspiration of students to practice in a planned way. The disciplined practice of CLAT coaching in Delhi through Kautilya IAS confirms the admission of law students to their preferred law colleges and universities. We are the prominent and the best institute for CLAT preparation without a single question. Our expert faculties and other alluring features make us stand out from others. We will elaborate on our features in the upcoming section that will give you clarity that why you must enroll with Kautilya IAS for CLAT exam coaching
Our educators and mentors deliver CLAT exam coaching intending to make every law applicant achieves excellent score and get into their preferred course and law colleges. Our inclusive study literature, sample question papers, and previous exam papers help students become aware of real exam patterns and perform well accordingly. The expert faculty for CLAT preparation draft the crash course for CLAT coaching classes with their years of experience. It will proffer detailed information and tricks to all interested law students to attain brilliance and get high marks in the CLAT entrance exam. Candidates with unquestionably acquire the best coaching for the CLAT exam from Kautilya IAS if they follow the given instructions and pattern by the mentors.
Why Prefer Kautilya IAS for the Best CLAT Coaching in Delhi
Our CLAT institute in Delhi facilitates candidates to acquire productive learning, accurate time management, proactive discipline, and structured preparation for the desired outcomes. We mentor applicants with an easy, streamlined, and planned perspective of learning. Students can utilize our instructed learning techniques to attain an edge over fellow students. Let's have a glance at the features that create a unique position of Kautilya IAS as the best CLAT coaching in Delhi:-
Mock exam preparation We conduct mock tests for applicants to assess their skills, aptitude, and drawbacks. It will help law aspirants to identify their weaknesses and improve accordingly. Mock exams are also useful for students to know their strength and alleviate it for scoring high grades in real exams. All mock exams contain feedback and performance analysis for the betterment of the candidates.
Online Interactive Coaching: Our online CLAT coaching is exclusive, communicative, and real, so students will not miss physical classes. Our teachers focus to each question asked by the candidates any time during the class session. The live CLAT preparation classes aim to make every student attentive. Kautilya IAS is not only the best CLAT institute in Delhi but also the best CLAT coaching in India
Detailed Offline Classes: Students also have another option to attend classes in person on campus if they prefer to be physically present with the mentor. It will give them an accurate learning environment and a proactive outlook toward the CLAT coaching online classes.
Benefits of Joining Kautilya IAS CLAT Coaching in Delhi
Check out the numerous benefits of joining CLAT coaching classes in Delhi at Kautilya IAS
Doubt classes: Kautilya IAS ensures that every student with all doubts in the class, syllabus, and different aspects of CLAT preparation will not remain intact because mentors will eradicate all the doubts. You can communicate with faculty to remove your doubts anytime so that you can better prepare to perform well in the real CLAT entrance exam. Such continuous practice of students makes them confident to do well in the real exam, and it eventually makes us the best online CLAT coaching institute in Delhi.
Guest lectures: We also conduct guest lectures and sessions in which successful alumni, academics, and former and present bureaucrats share their tips, experience, and techniques to succeed in the CLAT exam. Students get high encouragement and boost from these sessions. Having the prestige of the best CLAT institute in Delhi, Kautilya IAS understands its responsibility and conducts things accordingly.
Competition among Students: Kautilya IAS organize competition such as quiz, group discussion, and debate for CLAT coaching online and offline coaching, video, PPTs, and many more. These competitions make students know their caliber and prepare them to enter a law college.
Keep Updating Information: We keep updating the information about the changes in courses and well-known law colleges via various communication mediums, including Facebook, email, phone, our website, and Whatsapp. Our information facilitates candidates to get clear details about the CLAT coaching online and course syllabus.
Helpful Study Material: We provide notes, well-conceptualized study material, and books for CLAT entrance coaching that have helped thousands of successful law aspirants. The study material we provide is rich with the latest CLAT course curriculum, and each student will learn how to sync with the LLB entrance exam syllabus.
Some Additional Features of Kautilya IAS CLAT Institute Delhi
Experienced, Capable & Reputed mentors: We have a plethora of experts in a Subject matter that create a strong line of appreciation for online CLAT coaching from Kautilya IAS CLAT. Our experienced teachers know how to make classes interesting, interactive, and confidence-boosting for all students. The expertise of our capable and reputed mentors assist students to make whole learning in the class morale boosting, interactive and interesting. Their way of teaching can fill a sense of commitment and focus to all candidates, and they can naturally show their involvement in the class.
Compatible and Reasonable Fees:Our law entrance coaching is suitable for all students, and they don't have to put a high burden on their pocket before enrolling in Kautilya IAS. It is the high thrift fee structure in the education industry because we give ten times more value than what we charge our students.
Video Lectures and Digital Learning Materials: Plenty of video lectures for multiple subjects are accessible to all candidates. Moreover, if students have missed the class, they will get recorded video lectures. Our proactive in-house graphic, video editor and subject matter skilled academics perform brilliantly to provide you with the basics and core elements of CLAT coaching online and offline.
Performance Analysis Reports: Kautilya IAS ensures that every student who has enrolled with us enjoys improvement in his preparation for the entrance exam. We conduct weekly mock tests, competitions among students, and so on to improve students' performance. We create performance analysis reports based on their learning, proactive attention, and performance. In these reports, aspirants get transparent information about their drawbacks, strong points, and improvement areas.
Join Kautilya IAS Offline and Online CLAT Coaching in Delhi
Your search for the top coaching institutes for CLAT finishes here with Kautilya IAS. The reasons why we are claiming that are our spellbound features. Proficient CLAT coaching online and offline classes designed by experienced teachers or faculty with proven teaching techniques are incomparable.
Kautilya IAS gives the best online CLAT coaching in Delhi. We empower our students with detailed and crash courses for the LLB entrance exam. Every year hundreds of students clear the law entrance exam from our institute, and our track records witness such achievements. We aim to nourish extremely active, skilled, and competent law experts. These candidates might become future judges, corporate lawyers, civil litigation matter experts, attorney general, solicitor general, and many more.
Kautilya IAS has gained a considerable position among the Top 10 coaching institutes in Delhi because of consistently successful law students' results in the CLAT entrance exam. Here students will get comprehensive classes for the law entrance exam. Many legal experts and law alumni recommend our institute for its unique and understanding teaching methods, knowledgeable faculty, helpful study material, cooperative staff, and top-level success rate in the CLAT entrance exam.
What are the Eligibility Criteria for CLAT Entrance Exam?
Every law aspirant needs to know the eligibility criteria to appear in the CLAT entrance exam. Let's have a closer look at these eligibility conditions in the below portion:-
For LLB Programme (CLAT for UG students) 
Applicant must have cleared 10+2 from a certified education board or university.
Applicants from the OBC and General categories need to score at least 45% marks in the entrance exam to qualify, while SC/ST students must score 40% of marks in their CLAT entrance exam to qualify.
There is no maximum age limit for applicants.
 For LLM Programme (CLAT for PG students)
No maximum age limit cap is applicable.
Applicant must have cleared the LLP or similar exam from a reputed college or university.
General/ OCI/PWD/OBC/PIO/NRI applicants must pass the CLAT entrance exam with at least 55%, and SC/ST students must score 50% to qualify.
Complete Information for CLAT 2024 Exam Syllabus
CLAT Exam 2024 for English Syllabus
The syllabus for the English subjects in the CLAT entrance exam contains topics that evaluate the vocabulary and grammar aptitude of the students. The section contains 28-32 questions. Every passage contains 450 words minimum in this segment. Maximum literature is about historical and modern with fictional and non-fictional passages. CLAT English syllabus has three parts language/vocabulary correction, proficiency, and comprehension expertise.
CLAT 2024 Current Affairs Syllabus 
The current Affairs section of the exam contains 450 words of paragraphs. The segment contains 35-39 questions. These passages can come from journals, non-fiction books, news tabloids, etc.
All questions contain the legal matters and facts comprised in the passage. It is not necessary to have legal expertise to solve these questions; the candidates are supposed to show General knowledge and current affairs knowledge. The current affairs and GK syllabus have topics including Indian state and national affairs, global affairs, and historical incidents of current significance.
CLAT Exam 2024 Syllabus for Legal Reasoning
The legal reasoning segment of the exam comprises 450 words and 35-39 questions. Students need to give answers to the segment according to the sensible happenings and conditions connecting information to legal solutions, public policy matters, and moral ethics. Students don't have to know legal terminology to solve this section. It is useful to understand recent moral and legal problems and become competent to implement them in the circumstances.
CLAT Logical Reasoning Syllabus 2024
The segment covers 35-39 questions. The Logical reasoning segment comprises approximately 300 words in paragraphs. These tiny paragraphs also consist of some objective questions in which candidates need to:
Find an argument, its sources, and implications
Go through and detect the arguments present in the passage
Examine the reasoning patterns critically and evaluate how assumptions may base on specific grounds and proofs
Accomplish the aim of the comprehension paragraph and implement the inferences to new conditions
Create connections and similarities; recognize conflicts and rational misconceptions.
CLAT Exam 2024 Syllabus for Mathematics
The mathematics segment has no comprehension questions. It covers 13-17 questions. The mathematics / Quantitative Techniques segment contains questions about graphs, propositions, diagrams, text, and pictures.
CLAT New Exam Pattern 2024 – Marking Scheme
Based on the newest declaration by Consortium, the latest CLAT UG Pattern will contain 120 questions rather than 150 questions earlier.
These 120 questions are classified into 5 segments: English Language and Literature, Current Affairs, and GK, Legal Reasoning, Logical Reasoning, and Quantitative Techniques/ Mathematics.
Students will get one mark for every right answer and a negative marking for every incorrect answer.
Hence candidates should ignore speculation and only attempt the question if they are sure about the answer.
The CLAT entrance exam paper contains comprehension paragraphs and question series, excluding the quantitative techniques segment.
CLAT entrance exam for UG will have a class 12 difficulty level
Students will get a total of 120 minutes to attempt answers to all questions for both LLB and LLM course entrance exams.
CLAT UG & PG Exam Pattern 2024
The CLAT exam pattern for Undergraduate (UG) and Postgraduate (PG) varies somewhat.
The UG program entrance test subjects are English, Logical reasoning, GK, Legal Reasoning, and Quantitative aptitude.
The PG exam covers the topic of all subjects of the undergraduate program. Also, it includes Administrative Law, Constitutional Law, Public International Law, Labour & Industrial Law, Jurisprudence, Law of Contract, Family Law, Torts, Environmental Law, Tax Law, Criminal Law, Property Law, and Company Law.
Please look at the table in the following section and get a clear picture of the CLAT UG & PG exam pattern.
| | | |
| --- | --- | --- |
| CLAT Exam Features | 5-years LLB | One-year LLM |
| Mode of Exam | Paper and Pen Based | Paper and Pen Based |
| Total duration of Exam | 120 Minutes | 120 Minutes |
| Type of questions | Multiple Choice Questions (MCQs) | Multiple Choice Questions (MCQs) |
| Total Number of Questions | 120 | 120 |
| Maximum Marks | 120 | 120 |
| Marking Structure | +1 for the accurate answer -0.25 for wrong answer | +1 for the accurate answer 0.25 for wrong answer |
| Language of Exam | English | English |
As of now, these are the latest changes in the syllabus and pattern of the CLAT entrance exam. Candidates must remember these changes and take action accordingly. Mentorship and guidance are vital for students to succeed in all competitive exams, and CLAT is not an exception also. However, selecting the best CLAT coaching in India sometimes becomes tricky because you may not know which one is the best. Many coaching centres claim they are the best CLAT coaching institute in Delhi, but it is essential to check their credibility overall. With Kautilya IAS, we don't claim it, but we have worked on it; our results, track records, and goodwill in the market tell our success tale. So whenever you want to enrol with the best CLAT coaching in India, you can trust Kautilya IAS for the same without a doubt.

For more information on CLAT entrance coaching and other judiciary course mentorship, you can reach us at through below mentioned address and contact details:-
| | | |
| --- | --- | --- |
| Address | Phone | Email |
| 3rd Floor C-59 Noida, opposite to Priyagold Building gate, Sector 2, Pocket I, Noida, Uttar Pradesh 201301 | 8595391086 | info@kautilyaias.com |